It started with intense excitement, and ended with a whimper, but even though the winds were light, the action was frenetic on day 3 of the SSL Gold Cup 1/32 Finals in Gran Canaria.
We saw comebacks, surprises, intrigue and tension in abundance, with the four boat format providing edge-of-the-seat, nail-biting viewing for the livestream spectators.
Fleet 3 – Race 3
The first leg saw the four teams ranked in the opposite order of the overall leaderboard after day two, with Bermuda leading, Malaysia second, Ukraine third and Antigua & Barbuda last after a problem at the start left them languishing behind the fleet.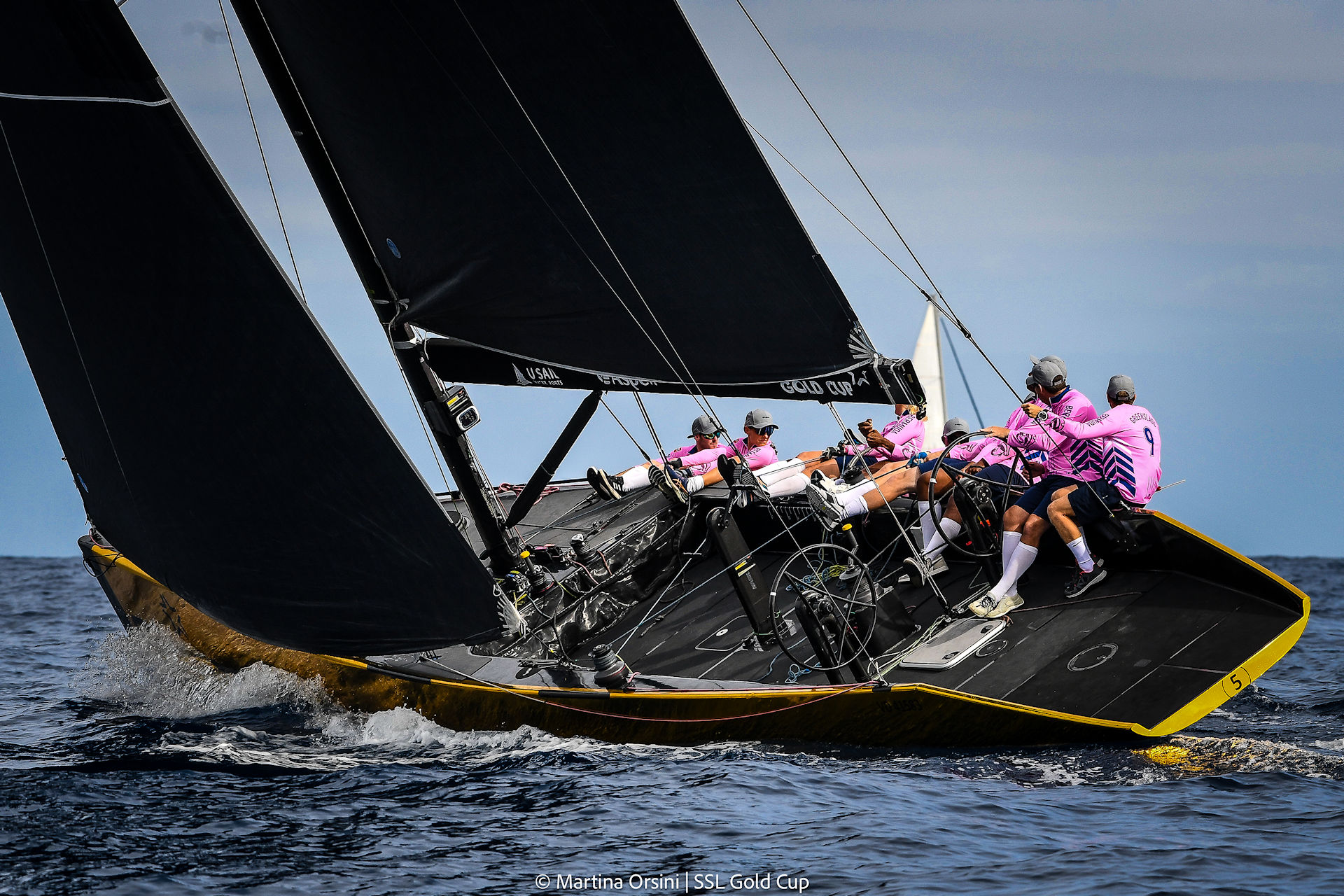 In very light winds the Bermuda 'Privateers' held their nerve to take the win, with Malaysia second. Antigua & Barbuda moved up to third briefly, but Ukraine took the initiative on the final gybe to sneak back in front and take third.
Rockal Evans, Captain of the 'Privateers', was elated as he stepped back ashore:
"We had two really frustrating first days. I mean, we had some really good moments of brilliance, but our mistakes outweighed our good moments. Today was like a textbook; we nailed our tactics around the race course, we had good boat speed, in phase with the shifts and a few different tweaks that we debriefed about yesterday, what the other teams were doing.
"We had a little moment at the last top mark, after the spreader mark, where Malaysia got really close, but we were very confident in our boat speed downwind, because we walked away from the fleet on the first downwind leg, and we just did the same things to get the boat speed back up and just sailed away from them.
"It's definitely winner-takes-all tomorrow. Right after our finish today, I looked at the boats finishing behind us and I was like 'this is perfect'. We needed them to finish in that order, so we're all bunched together for the last race. And I made the team aware of that and everybody's hungry to get to tomorrow and do the same thing that we did today – we definitely have the momentum."
Ukrainian team 'Haydamaky' managed to catch a layline finish to streak past Antigua & Barbuda on the final stretch, putting 'The Rum Runners' in last place after their previous two wins. Main trimmer for Ukraine Georgiy Paches speculated on tomorrow's race:
"Based on the results, we see that the whole fleet, our four teams, they're all quite equal. So it's very tough to predict, but it all depends on avoiding the small mistakes. The wind is very tricky, you can be going normally and then you just stop, and it looks like it will be similar conditions tomorrow."
Tactician for Malaysian team 'The Monsoon' was reluctant to reveal tactics before the final day, but said:
"Tomorrow will be a tough fight. We keep improving every day, so I hope that we make a good start and do well in both speed and play the wind shifts."
Going into Monday's double point race things couldn't be tighter with Antigua & Barbuda, Ukraine and Malaysia all tied on eight points, and Bermuda just two points behind, but with all the momentum after their win today. It's wide open as to who will qualify to the 1/16 Round from Fleet 3!
Fleet 4 – Race 3
South Africa dominated the start of the race. With the other three teams hanging at the back of the fleet, Lithuania surged ahead towards the end of Leg 1 but didn't manage to close the gap with South Africa, still lagging behind by a minute and a half. The Czech Republic and Oman were neck-and-neck as they passed the first mark.
Lithuania took the lead on the second upwind when South Africa failed to follow the golden rule of staying between your opponent and the next mark. 'Team Ubuntu' could only watch in horror as in a big right hand wind shift 'The Ambers' turned a 600 metre deficit into a 200 metre lead in a couple of minutes. It went from bad to worse with 'The Czechs!' also catching right up to the South African team.
The South Africans are nothing if not determined though, and an early gybe on the downwind leg saw them come back right onto the tail of the Lithuanian 'Ambers'. The umpires were watching closely as the two engaged in the final metres of the race, with both gybing in synchronization. Rokas Milevičius and team though held their nerve to take the win, celebrating cheerfully as they crossed the finish line, 7 seconds ahead of Ian Ainslie's South African team.
Raimondas Šiugždinis, Lithuanian helm said about the winning move:
"We always thought about the right side of the beat, and during the first upwind we also kept right, but there wasn't a lot of wind. On the second upwind it was perfect – we saw something on the water, we believed in it, and we were lucky!
On the moments going into the finish he added:
"We were a little nervous as it was just a small distance between first and second place. Our first gybe wasn't perfect, and we made some mistakes, but we did enough to win. Tomorrow we need to sail conservatively without any penalties."
There was fighting talk from South Africa trimmer Arin Long:
"It's super tricky conditions out there, in these light winds the top battens don't always pop in gybes and tacks, and Lithuania came back at us. But we managed to stay in the fight, catch up and, yeah, boat speed and our trimming was super good today."
He says 'Team Ubuntu' will be taking a similarly cautious approach to Lithuania tomorrow:
"Tomorrow I think we're just going to stick to what we know, play a conservative, safe game and just do our best."
'The Czechs!' looked deflated as they crossed the finish line, but Captain Ondra Teply still holds out hope for the final race:
"I think we are feeling a little bit better than after yesterday, because we had a good start and we were able to catch up in the second half. So I mean, we are competitive. It would be good to pull it together. If we win tomorrow, we'll be okay."
South Africa and Lithuania go into the double points race both in a powerful position, tied on 10 points, while Czech Republic have it all to do on 6 points. Barring a minor miracle, Oman are out of the running for a place in the 1/16 Round on 4 points.
Fleet 1 – Race 3
The wind had dropped significantly for Fleet 1 – still enough to race, but it was a game of snakes and ladders. The tension was visible on the yachts, with rapid communication between the team and smooth coordination needed to keep the boats moving.
Tahiti's 360 degree penalty, while having to avoid the Slovenian and Peruvian boats, cost them greatly, dropping from first into third place, just a few metres ahead of Bulgaria.
By gate 2, Tahiti was 2 minutes behind Slovenia and 1 minute behind Peru, with questions of whether the race would continue. After another slow leg, Slovenia rounded mark 3 in first place, followed by Peru and Tahiti with just 5 seconds between them.
As the SSL47s slowed to a crawl in the light winds on the final stretch, it was like pulling teeth, as Tahiti, Slovenia and Peru vied for first position. At one point, with absolutely zero wind, it appeared that Tahiti was doomed, but they clawed it back in one of the most exciting snail races for a long time.
Tactician Teiki Hacheche of the impressive Tahiti 'Black Pearls' was elated afterwards:
"This is amazing! Three races and three victories is unbelievable for us. I think we've been lucky this time, as we had the penalty, and it was very, very light, so we decided to go the other way from our opposition, and it worked."
On how to sail in the light and tricky conditions he added:
"It's a mind game. You have to stay calm, and you have to be very focused on the water to see what is going to happen. This is my job and I think I did pretty well today, but I also think I was very lucky, as we had the right shift at the right time after our penalty."
At over an hour, it was the longest race of the competition so far. This was news to Slovenia Captain Vasilij Žbogar:
"Well, on the boat it didn't feel like an hour! It went by very quickly, I think because it was so intense. The boats were very close, especially towards the end, so a lot of things going on."
Of the conditions, Žbogar continued:
"It was very light but still kind of sailable – very tricky, very patchy, big waves – so very challenging for the crew to keep the boat going. A lot of trimming all the time, a lot of body movement so we're all pretty exhausted even if it was 3-4 knots.
"In these light conditions with the big sails every tack is a huge loss. The tactician and the trimmer are consistently discussing if it's worth it to tack or not, so it's a lot on the technical decisions, but that's why it's so fun. We enjoyed the race – obviously we wanted to win, we were second, and we just lost it towards the end – but close racing, and we like close racing."
Going into Day 4, Tahiti and Slovenia are looking like a safe bet for the 1/16 Finals, but as this competition has already shown in its opening days, anything can happen.
Fleet 2 – Race 3
With the Teams transferred into the boats, the Race Committee decided there wasn't enough wind for Fleet 2 to hold a race, leaving them on two races, and the job of taking the SSL47 yachts into the harbour, taking down the sails and tidying up the boats without even having had a sail.
Tõnu Tõniste, Captain of the Estonian 'Icebreakers' was pragmatic about the situation:
"It's sailing and we were ready for that. We are ready for tomorrow and two possible races – our beginning to the regatta was not very good, so the more races we have, the happier we are."
Follow us LIVE each day as we present you with all the latest SSL Gold Cup news from on and off the water:
#GranCanariaSSLGoldCup