On day two of the SSL Gold Cup 1/32 Finals, Gran Canaria delivered another beautiful setting for world-class racing. Today it was all about teamwork, smooth sailing and eyes out of the boat looking for the best wind. Tactical yacht racing at its best.
The golden SSL47 yachts are all-action, with the crews having to work hard throughout all the manoeuvres, which is making for superb coverage in the daily livestreams on Youtube and Facebook.
For countries entering the competition at this stage it is rare to be able to sail as a national team on a big yacht, and is an opportunity they are embracing with open arms. The SSL Gold Cup is bold in its vision, and is helping increase sailing participation around the world.
Fleet 2 Race 2
After a tight start, we witnessed a superb battle between Cuba and Chile on the first beat, with the light winds and confused sea state pushing the helms and trimmers to the max.
Cuba were then penalised at the windward mark for extending their bowsprit too early, which cost them dear, relegating them to the back of the fleet. The margins in the SSL Gold Cup are fine, with even minor mistakes leading to major setbacks.
Portugal took up the challenge with Chile on the second lap, with the two exchanging the lead continuously, rarely having more than a boat length between them, before Portugal picked the wrong side of a shift, dropping from first to third. Estonia plotted their course upwind to perfection, but it wasn't enough to catch Pablo Lorca's flawless 'Finis Terrae Sailors' from Chile, who took their second win in as many races.
While Chile's Captain Pablo Lorca wasn't on board today, the pride in his national team was palpable:
"We have a strong team who have sailed together for many years, but not all are doing the same job on board as on the boat in Chile. It's an honour to be here as we are from a remote place in the world, very unknown, but we have a strong maritime culture and the sport of sailing has grown fast in the last 40 years. The SSL Gold Cup is a great thing for sailing and we're very proud to be here."
Due to financial constraints, participating in international competitions like the SSL Gold Cup is a rare and challenging opportunity for the Cuban team, as Captain Nelido Manso explained:
"In Cuba, the sailing scene is so bad, as we have an economic crisis. No one can buy anything. It's impossible to buy a boat, to buy sails. So we depend on friends in the United States, people who were involved in sailing before in Cuba, who send equipment to us in Cuba."
Fleet 3 Race 2
A superb start saw SSL Team Malaysia at the pin end, ahead of Ukraine and Antigua & Barbuda, with Bermuda being squeezed out at the committee boat and forced to slow down their approach. During the first upwind leg the entire fleet was separated by just 8 metres at times – well under a single boat length – with Bermuda coming out on top at the windward mark.
Ukraine then managed to hold their speed and squeeze around the outside of Bermuda at the leeward mark, forcing the Bermudan 'Privateers' into a tack, which dropped them from first to last. This move proved key for Rodion Luka's 'Haydamaky' SSL Team Ukraine who went on to take their first win of the event with yesterday's winners Antigua & Barbuda second and Malaysia third, with His Highness Tengku Amir Shah watching on.
Mid-race leaders Bermuda couldn't recover after their slow rounding at the leeward mark and once again finished last.
For the Ukrainian team, half of whom were still in Ukraine leading up to the event, participating in the SSL Gold Cup is no small achievement. Trimmer Denys Osliak says it's a huge source of pride to be representing his country, commenting after today's decisive win:
"We came here with really no preparation, but we are ready to give all we have to make it as great as possible. I'm very thankful for our warriors back home, and everyone who is taking care of our country during the time we are here. We can proudly wear our flag colours and to say that we are here, we exist, and we are not giving up."
Fleet 4 Race 2
Lithuania squeezed out the entire fleet at the committee boat end of the line on the start and never looked back. They dominated to leave Race 1 winners South Africa trailing 200 metres behind in their wake.
The calm demeanour of 'The Ambers' Rokas Milevičius belied the intensity it takes to sail in these conditions, as keeping ahead of your competition when the wind is shifting and the waves are big is anything but easy. It was very noticeable how the Lithuanian deck was kept clean and clear of ropes at all times, a sign of their impeccable teamwork.
Grinder for 'The Czechs!' Stepan Novotny shed light on the unique hurdles their team faces coming from a land-locked country:
"We just have lakes to train on in the Czech Republic, usually really flat water with no waves, so it's totally different for us here. Today it was super difficult because of the really light wind and huge waves, so we had some problems with that. But it's a dream to be here in the Atlantic Ocean competing with countries from all over the world, and we're still fighting."
SSL Team South Africa's Captain Ian Ainslie has done much to build sailing, founding the Izivunguvungu Sailing Club (Izivunguvungu is a Zulu word meaning 'wind storm') and one of the young sailors, Howard Leoto, who started his sailing at the club is on the team:
"Many years ago we started the school and Howard joined as a kid. They were sailing in heavy, low performance boats called a Bosun which the Navy gave us. Firstly we had highly chaotic racing, but eventually they became super good. We think the best racing in South Africa was in these Bosuns, sailing in 35 knots in Simon's Town. All the guys have gone on to do really well in sailing, and soon they were winning all the national titles in South Africa, for example Howard who has won multiple titles in the Mirror, and another mate of Howard's, Asenathi Jim went to the Olympics. With not much you can change a lot."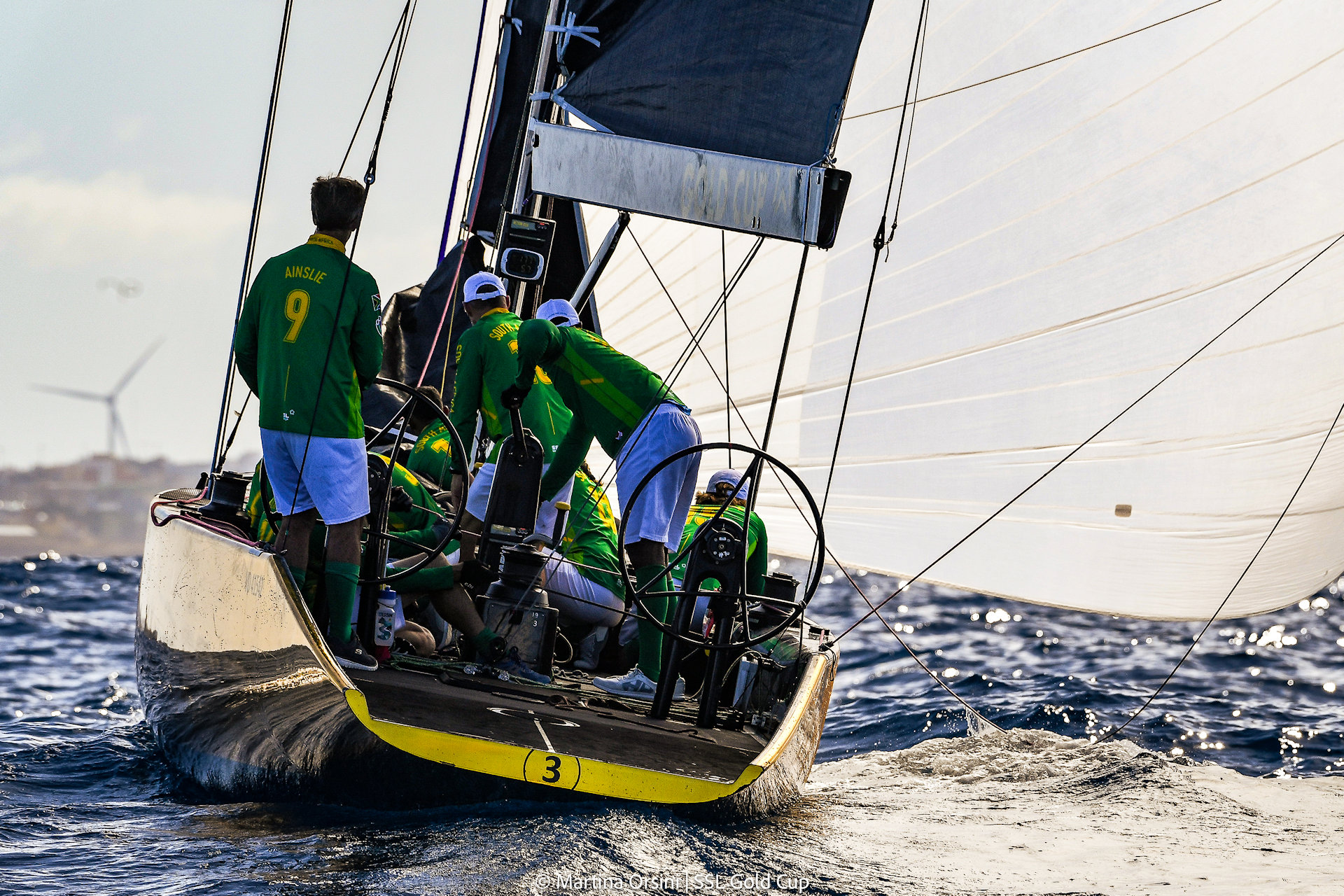 For Howard Leoto, taking part in the SSL Gold Cup is a dream come true:
"It means a lot, and it's opened a lot of doors for me as well. It's a great learning curve to be amongst the top South African sailors, and also sailing against all the other countries as well, finally meeting them instead of just seeing them on TV."
Howard has moved on from learning at the school to now teaching the next generation of kids, and he hopes that progressing in the SSL Gold Cup will help inspire them to continue in the sport:
"To get through to the next round would mean the world. It would bring great hope to the South African kids who have grown up from the same under-priviledged families, so hopefully they will look up to us as well, pushing them forwards to one day compete themselves in the SSL Gold Cup."
Fleet 1 Race 2
After a good start by Bulgaria, Tahiti's 'Black Pearls' worked their way into the lead. Together with Peru, the top three had an extremely tight battle on the first upwind leg, but they soon established a lead to take their second race win in a row, although they have been deducted a point from day 1 after Captain Teva Plichart accidentally wore a tactical watch.
Peru were denied their appeal after their runner broke yesterday, but managed to secure a second place position in the race, coming ahead of Slovenia. After being unable to compete yesterday, Peru's 'Paracas Warriors' floater Joaquín Razetto was glad to be back in the SSL47:
"Today was really our first day, because it was our first time properly sailing the boat since we qualified in Switzerland last year. So we had no advantage against the others to get used to the boat, and for sure today was tricky for us, we made some mistakes. But let's wait until tomorrow. I think we could change our position and improve."
Tahiti, a Polynesian island with just 300,000 people, dominated the final race of the day. Tactician Teiki Hacheche reflected on their second win:
"We are very proud to represent Tahiti. Very, very proud. We feel blessed to be here. This is the beginning of the final, and we're doing well, so maybe we can go ahead to the next round. I think the next round will be harder because then you have the higher ranked teams arriving. But if we go further in the competition, it's like training for us. The new teams, on paper they're very good, but they don't know the boats."
The SSL Gold Cup is helping to build the next generation of great sailors and bringing a global community of sailing nations together. The competition is intense, but the inspiration is real.
​​Will the experience the competitors are gaining in these early stages give them an edge in the upcoming rounds? We'll have to wait and see!
Follow us LIVE each day as we present you with all the latest SSL Gold Cup news from on and off the water:
#GranCanariaSSLGoldCup